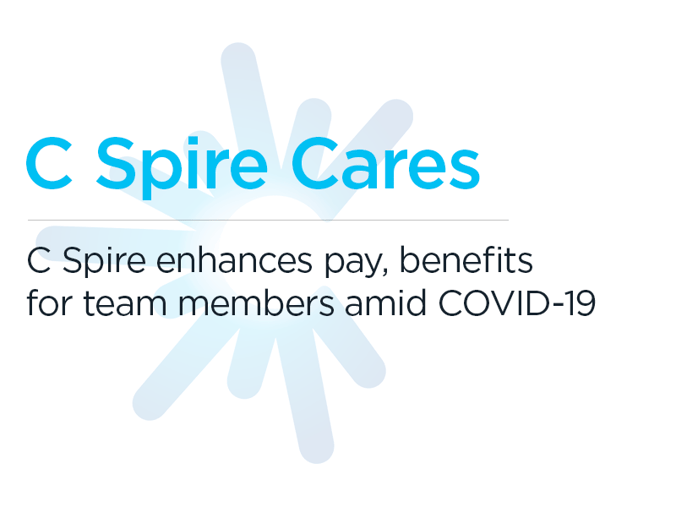 All C Spire team members are essential to the wireless, fiber internet and business communications infrastructure across Mississippi, Alabama and Tennessee. During times of crisis, these essential jobs become critically important.
Every day, our team members keep our customers at the center of what they do. As they provide essential services at a time when they are needed most, we are stepping up to support them with important additions to paid-time-off policies and pay for the month of April 2020.
We're providing immediate hazard pay for team members whose jobs require them to be in contact with the public, such as those who install fiber internet in homes.
We will cover the full cost of diagnostic respiratory tests related to the COVID-19.
As retail locations have closed due to COVID-19, we have retrained C Spire team members from those stores to assist telesales and webchat.
The new federal guidelines are helpful, but we are extending those beyond the requirements to provide:

Paid time off at 100 percent of the team member's regular rate of pay when they are unable to work due to certain reasons related to COVID-19, such as:

When a team member has been ordered or advised by a healthcare provider to quarantine
When a team member needs to care for someone quarantined
Childcare

C Spire's policy extends to all team members, even if they are not covered by the new federal law regarding paid leave.

When a team member is concerned about COVID-19 but has not tested positive or been ordered or advised to quarantine, we will provide time off at 2/3 of the team member's regular rate of pay.
From virtual COVID-19 triage to extra high-speed data and same-day delivery, we're working in a variety of ways to help our home state through the current health crisis. Learn more at cspirecares.com.