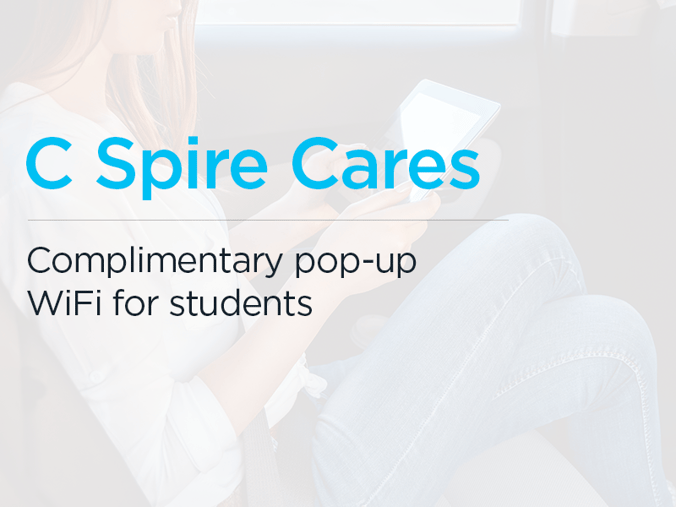 Working and learning from home is an adjustment many of us are now figuring out. But distance learning presents an extra challenge for students who lack reliable high-speed internet access at home.
With public WiFi locations closed under social distancing policies, we are working to bridge the digital divide to ensure students can continue learning.
That's why we are providing a service to provide students with the WiFi they need from the safety of their own vehicles.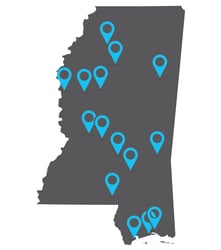 At select C Spire retail locations and additional pop-up locations around the state, students and parents can park their vehicle and log onto complimentary high-speed WiFi to help them work on school assignments. This provides a way for students to continue learning safely during the COVID-19 pandemic.
Complimentary WiFi services are available to students in the parking lots outside the following retail locations:
Batesville, 191 Covenant Crossing, Batesville, MS 38606
Bay St. Louis, 301 Hwy 90, Bay St. Louis, MS 39520
Brandon, 1530 Government Street, Suite A, Brandon, MS 39042
Brookhaven, 971 Brookway Blvd, Brookhaven, MS 39601
Clinton, 222 Hwy 80 E, Clinton, MS 39056
Columbia, 1116 Hwy 98 Bypass, Columbia, MS 39429
D'Iberville, 3822 Promenade Parkway, D'Iberville, MS 39540
Greenville, 1825 Martin Luther King Drive, Greenville, MS 38701
Greenwood, 2215 Hwy 82 West, Greenwood, MS 38930
Grenada, 1302 Sunset Drive, Grenada, MS 38901
Gulfport, 9277 US 49, Gulfport, MS 39503
Hattiesburg (Hwy. 98), 4930 Hardy Street, Hattiesburg, MS 39402
Indianola, 701 Highway 82 West, Indianola, MS 38751
Magee, 1681 Simpson Hwy 49, Suite 6, Magee, MS 39111
McComb, 112 Anna Drive, Suite A, McComb, MS 39648
Starkville, 337 Hwy 12 West, Starkville, MS 39759
Waynesboro, 1400 Azalea Drive, Waynesboro, MS 39367
Wiggins, 1097 E. Frontage Drive, Wiggins, MS 39577
Complimentary WiFi is also available at:
Canton
Address: 598 Yandell Road, Canton, MS 39046
Landmark: Grace Crossing Baptist Church parking lot
Crystal Springs
Address: 300 S Jackson St. Crystal Springs, MS 39059
Landmark: First Baptist Church of Crystal Springs
Jackson
Address: 1640 W County Line Road, Jackson, MS 39213
Landmark: Greater Pearlie Missionary Baptist Church parking lot
Address: 6000 Old Canton Road, Jackson, MS 39211
Landmark: Christ United Methodist Church parking lot
Laurel
Address: 415 Central Ave., Laurel, MS 39440
Landmark: Outside of Agape Church
Liberty
Address: 243 Main Street, Liberty, MS 39645
Landmark: Amite County Courthouse parking lot

Meadville
Address: 63 Main St, Meadville, MS 39653
Landmark: Outside the Franklin Chess Center in downtown Meadville
Provided by Franklin Telephone Company (a sister company of C Spire)
Ridgeland
Address: 302 West Jackson Street, Ridgeland, MS 39157
Landmark: First Baptist Church
Woodville
Address: 130 Hwy. 61 South, Woodville, MS 39669
Lankmark: Treppendahl's Super Foods
From virtual COVID-19 triage to extra high-speed data, we're working in a variety of ways to help our home state through the current health crisis. Learn more at cspirecares.com.