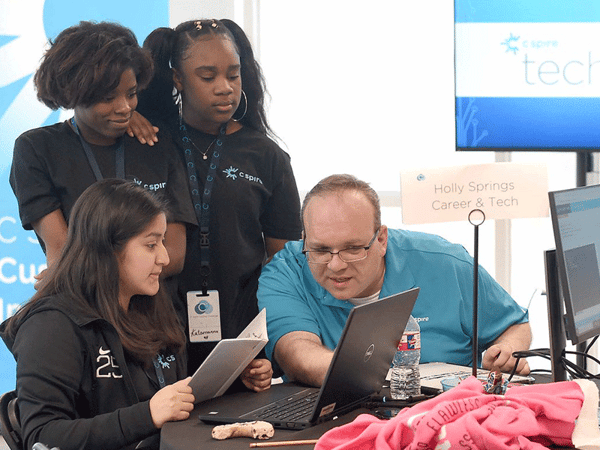 The inventor of the world's next big technology innovation could be sitting in a Mississippi classroom right now. That's why we are excited to announce that registration is now open for the 2020 C Spire Coding Challenge (C3) on March 26 at The Westin Jackson.
"Our hope is that this day of friendly competition and mentoring will ignite a creativity and love of technology and innovation in our youth," said C Spire CTO Carla Lewis. "We very well may have the next Steve Jobs sitting in our classrooms. Programs like C3 help young people discover their love of computer science." The annual C3 coding competition is part of C Spire's Tech Movement, a community minded initiative that aims to build Mississippi's future through technology and education.
What is C3?
C3 is a one-day competition where teams of high-schoolers collaborate under the guidance of a C Spire mentor to solve computer-science-based challenges. Each year's challenges are different and kept secret until the day of the competition.
The 2019 C3 event drew a mix of 30 public and private schools across 24 Mississippi counties to the competition at C Spire's Headquarters Ridgeland, Mississippi, headquarters. There was intense concentration, nervous jitters, and lots of laughter as students poured themselves into their coding challenges. In the end, two Jackson-area high schools and one in South Mississippi claimed the top three spots. The first-place team members each won $2,000 scholarships, while second and third place team members received $1,500 and $1,000 scholarships each. Watch a video of the 2019 C3 event here.
Register now – space is limited!
High schools throughout Mississippi are invited to register to join us on March 26. We are looking for teams of two to four students, grades 9 through 12, to represent a school. Whether you have no coding experience or are an expert coder, all students are invited to participate and expand their skills.
Spots fill up quickly, so please register at cspire.com/c3 by January 31.
The event will include:
Free participation for each team of 2-4 students along with a chaperone
Breakfast, lunch, and snacks included
Awesome door prizes up for grabs throughout the day
Chances to interact with Pepper, our humanoid robot
Hands-on coaching and mentoring from technology experts
Scholarships and bragging rights for the winning teams
As a technology leader, we want to inspire students to pursue careers in information technology and computer science. C3 is one way we're accomplishing that through the C Spire Tech Movement. Learn other ways you can join the movement here.