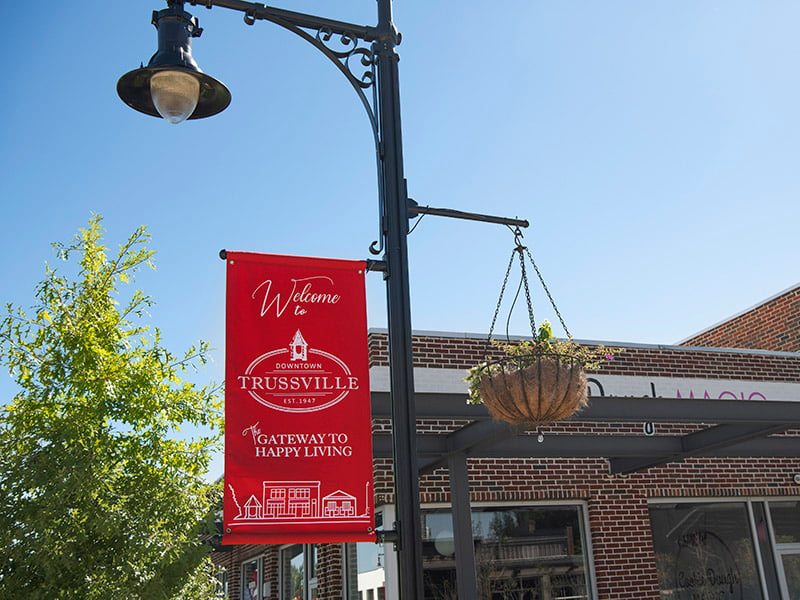 One of Alabama's best-kept secrets lies in the hills just 15 miles northeast of Birmingham, the state's largest city and an industrial center that has reinvented itself as a hub for bio-technology, medical research and banking.
As the eighth-fastest-growing city in Alabama, Trussville posted an impressive 31 percent growth in the last decade alone. Now, efforts to solidify its strength as a world-class community has led city leaders to commit to supporting the construction of the internet of the future—built on incredibly fast and resilient fiber optics—to serve its 26,000 residents.
"We recently unveiled a 20-year plan that relies on fiber-optic connectivity to anticipate and respond to our city's evolving needs," says Buddy Choat, mayor of Trussville. "In the immediate future, that includes recruiting companies for an industrial park and supporting co-working spaces in downtown Trussville."
Bringing to life the Trussville 2040 Plan, which calls for "a competitive and diverse economy" built on smart infrastructure that will create a "smart city with a knowledge-based and self-sustaining economy," will require the high speeds and bandwidth of fiber internet. With fiber, residents and businesses can experience symmetrical internet, meaning information is downloaded and uploaded at the same rates, with low latency and high bandwidth that enables entire households and businesses to operate on a single fiber connection without experiencing lag time.
Just three years ago, the city of Trussville's "Frankenstein of networks" fell victim to a brute-force attack from hackers in North Korea, says Jim Nolan, director of information technology for the city. "There's really no security when you've got a hodge-podge of network connectivity," he says. "Because of fiber, we're able to have a very secure network that nobody else is on and nobody else can get to."
Residents and businesses are now beginning to benefit from fiber networks as C Spire, a diversified telecommunications and technology services company based in Ridgeland, Miss., has begun connecting neighborhoods to high-speed broadband fiber internet.
"Trussville's leadership, including Mayor Choat, has a vision for positioning this city for growth and knows all-fiber broadband is foundational to that future growth," says Ben Moncrief, senior vice president of strategic relations at C Spire and managing director of the company's Alabama expansion. "It continues to be a pleasure to partner with them in pursuit of that goal."
To rapidly deploy fiber throughout the city, C Spire is using a crowd-sourcing business model that allows residents to direct the company to the most urgent demand. Once a neighborhood reaches the company's threshold, C Spire contractors put boots on the ground and begin undergirding the area with fiber-optic infrastructure.
"Crowd sourcing seems to be a faster way of getting service into a neighborhood," says Nolan.
As a bedroom community for Birmingham, nearly 90 percent of Trussville residents are employed in "white-collar," office-type jobs, often in sales and management, that require the reliable and speedy connections fiber provides. Greg Barker, president of the Economic Development Partnership of Alabama, says fiber internet infrastructure puts Alabamians in a position for success.
"Fiber is not only important to people transacting business using the internet and selling products globally, but also to conducting virtual meetings and working remotely," he says. "Being able to access high-speed fiber is very valuable."
Miller Girvin, executive vice president of innovation and entrepreneurship at the Economic Development Partnership of Alabama, adds, "In order to have a fighting chance, startups need the speed and reliability of fiber internet or else they can't compete. We want to support our towns that have startups and remote workforces."
In addition to the benefits C Spire is bringing to residents, Nolan points to the company's responsiveness as a strength that helps bind the partnership between the entities. "It's just the transparency of it," he says. "When they say they're going to do something, they get it done. There is no lag. It's just done. They have a personal commitment to doing the right thing, and that's what I've really enjoyed in working with them."
As C Spire builds on its nearly 12,000 miles of managed fiber—and after recently connecting the Birmingham metro area to its Mississippi home base—Moncrief says C Spire is always looking to work with communities whose citizens and leaders are engaged in creating a positive shared future.
"We're constantly asked about public-private partnerships to bring fiber to new communities, and the truth is we're open to all options," says Moncrief. "We go to the places where our services are demanded, whether by leadership, the citizens or both."
To learn more about C Spire's ultra-fast broadband fiber or how to start their own neighborhood or community crowd-sourcing campaign, interested residents should visit www.cspire.com/fiber or email fiberchampions@cspire.com.