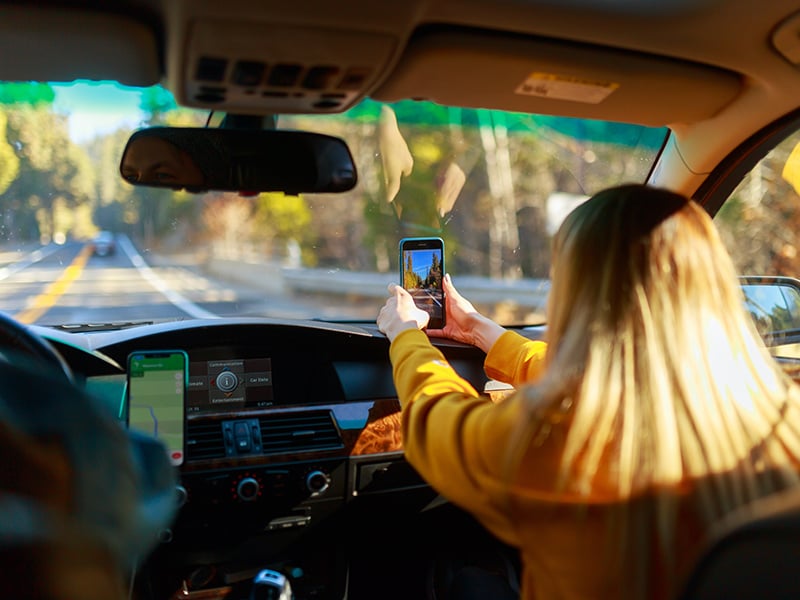 The road trip is an American tradition, but it's not reserved for the hottest months of the year. Just as the highways keep going on forever, your endless summer doesn't have to end just because the temperature isn't hot enough to fry on egg on your hood.
So, if you're planning to heed the call of the open road this autumn, whether trekking to a football game, visiting family or simply enjoying the great outdoors, it's time to take a break and indulge that wandering spirit.
Here are four essential apps (and one cool website) to take with you on your fall road trip.
Fall Foliage Predictor Map
All great adventures begin with a plan, and your mission begins with a visit to this handy 2022 fall foliage predictor. Use the sliding date scale at the bottom to see when places across the U.S. should experience early, peak and post-peak fall colors.
Waze
It's time to get lost—but only in spirit. The Waze app is here to keep you on course with up-to-date directions on the best way forward, no matter where you roam. By using crowd-sourced data on road closures and delays in real time from more than 140 million users, Waze could make planning your next road trip easy.
Gas Buddy
When more people are traveling, the added demand means higher gasoline prices at the pump. Wouldn't it be nice to know where to find the cheapest prices? The Gas Buddy app allows you to find them by geographic location and brand, or on their cool interactive map. And with their trip calculator, you can figure up the cost of your trip before you leave.
Hostelworld
For travelers who like adventure but maybe not camping, hostels are where it's at. Although popular with backpackers crossing Europe for years, many hostels in America offer options like a traditional hotel experience (with a hotel price) or a bunk for 20 bucks. As its name suggests, the Hostelworld app is comprehensive, with the ability to book at 36,000 listings in 178 countries.
Headout
You'll get access the best experiences in every city through Headout, a travel app designed to make traveling more fun and spontaneous. Grab tickets to the Empire State Building lookout in New York, a helicopter tour of the Grand Canyon out of Las Vegas, or a speedboat sightseeing tour in Miami straight from the app.
One last thing: If you're hitting the road, you're going to need the best nationwide coverage. Check out our plans and take advantage of a nationwide 5G network.