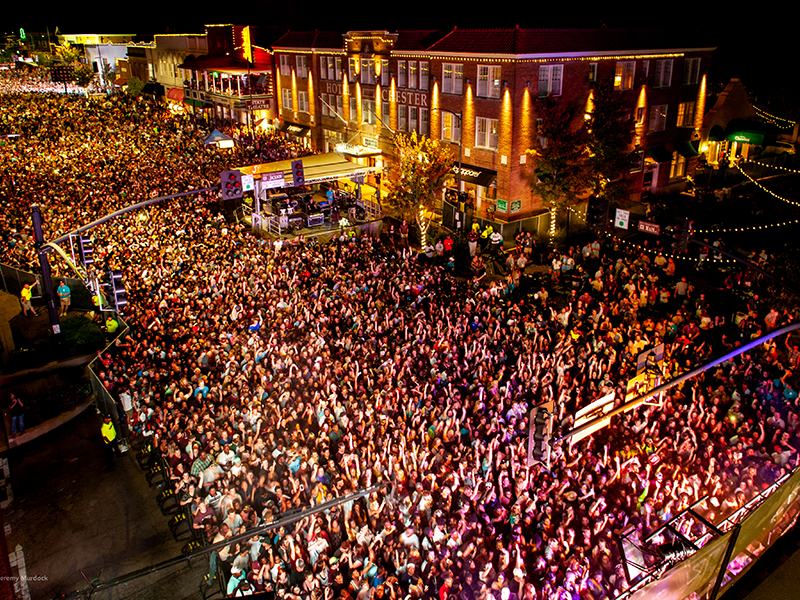 Nothing swells a southern college town's pride and population like a home football game in the fall. But riding shotgun with those tens of thousands of fans is a bevy of mobile devices that all need to connect to a wireless network.
Maybe you've never stopped to wonder how it all just seems to … happen. What seems like magic is the result of ongoing studies of wireless consumer habits and continually optimizing cell sites to follow—and even anticipate—consumer demand.
When fans arrive at Vaught-Hemingway Stadium at Ole Miss in Oxford, a massive, ultra-high capacity cell site covers them in the Grove, the Circle and wherever they park their coolers. Forty-eight small-cell sites handle the spillover coverage at Mississippi State's Davis-Wade Stadium in Starkville, and another 13 distributed around the Junction serve tailgaters. In Hattiesburg, a high-capacity, on-campus cell site blankets M.M. Roberts Stadium at Southern Miss, better known as "The Rock."
While these installations will post your videos and pics to Instagram in a flash, they're also part of a battery of temporary and permanent cell solutions that make C Spire a transparent and reliable part of the gameday experience.
On October 30, when Mississippi Valley State University hosted the Deion Sanders-coached rival Jackson State University, C Spire anticipated a need for additional cell capacity and delivered a COLT before the GOAT, Mr. Prime Time himself, came to town. Also known as a Cell On Light Truck, crews parked the vehicle on campus prior to the game, where it will remain through the football season to process spillover from the main cell site just a few miles away.
"It took on some major traffic," says Mitchell Jordan, director of RF Engineering and Design at C Spire. "College football games are about 3.5 hours long with only about 12 minutes of actual between-the-whistle playing time. That results in a lot of screen time where attendees are checking scores, watching other games and scrolling on social media."
In Starkville, the annual Bulldog Bash festival brings an average of 35,000 revelers to the downtown district for concerts, a market and more. The 2021 edition, held November 5, featured a "battle of the bands" competition and a headlining set from country artist Hardy that packed University Drive for several blocks.
While a main cell site is located within the immediate area, C Spire brought a COW (Cell On Wheels) on a pull-behind trailer, the same type used when towers are damaged in hurricanes and tornadoes, to make sure calls, texts and posts went through without a hitch. Whereas the COLT has an antenna that can raise 60-70 feet in height, the COW's antenna can reach 100 feet, which is the lower range of a permanent tower.
Jordan says the company's local crews are able to anticipate periods of increased wireless usage and respond with purpose-built COLTs and COWs based on the individual need and what spectrum assets are already in the market.
"Any time you have large concentrations of people in an area, such as a major sporting or music event, wireless usage for that space spikes," Jordan says. "As we calculate the wireless need, our engineers determine how high the antennas need to go and what solution works best to serve those areas. Since permanent towers cover broad areas, we can come into a market and add temporary capacity without anyone knowing the difference—and that is the goal."
Over the next three years, C Spire is investing more than a billion dollars into strengthening and expanding its wireless network. In 2021 alone, that meant adding 250-plus new 5G cell sites with self-healing artificial intelligence (AI) built into the C Spire network.
To learn more about how C Spire is engineering the network of tomorrow, click here.