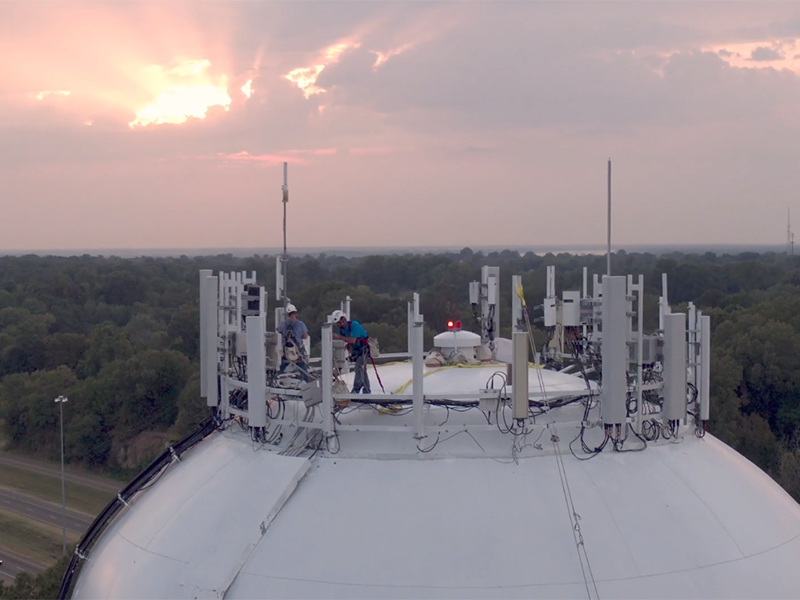 We deal with a lot of weather challenges in the mid-South. Winter may bring snow, sleet and ice, while summer can bring hurricanes—and buffering those major seasons are spring and autumn, where you can experience severe-weather outbreaks.
All four seasons can wreak havoc on the infrastructure we all use for travel and communications. When the potential for inclement weather is year-round, it's always time to make sure you're prepared to handle a potential disaster.
"It's extremely important to be weather ready," says Charles Watson, Senior Vice President of Network Operations at C Spire. That's not just true for residents, he says, but also for wireless and fiber internet providers like C Spire. "These are the times when people count on their communication services the most. You want to make sure you are extremely prepared."
C Spire Team Members work year-round to harden our extensive wireless networks and prepare for a wide range of potential disasters and major weather events. We routinely review and update our emergency preparedness and crisis communications plans, and conduct drills throughout the year to test the readiness of our network and team members.
Network engineers run regular drills to force-fail systems in order to make sure generators kick on. Tower crews stand ready to act, with fuel trucks prepared to service our cell sites in the event external fuel sources get low. COWs (Cell on Wheels) and COLTs (Cell on Light Truck) are readied to respond in the event a cell site goes down or is damaged.
"We have a commitment to provide the best and most reliable service and network," he says. "Our preparation and high-level redundancy are designed to ensure that we provide maximal reliability to our customers, particularly at a time when they're most needed. And sometimes that event could last one day, several weeks or a month."
Multiple facilities placed around C Spire's wireless footprint, nicknamed "super switches," are designed to withstand the force of a category-five hurricane. These high-tech facilities process millions and millions of calls and data, and add additional protection and service assurance for customers. Within the super switches, we have additional generators and a grid of battery backups, and then redundancy systems on top of that just to ensure the maximum reliability of our network. We don't quit, and that's good news for you.
"It's a sense of comfort," Watson says. "It's one less thing the customer has to worry about. In a disaster or severe weather, there are many other things you have on your mind. And the reliability of your network is one of those things they don't have to worry about."
Keeping first responders connected during emergency events
It is critical for first responders to be able to communicate during emergencies. As a free public service, C Spire helps local and state emergency first responders send and receive critical mobile data communications during a crisis or natural disaster. The free service gives emergency personnel, including state and local government, police, fire and other designated public health and safety professionals, priority data network access on C Spire's LTE network.
Stay weather aware with free alerts on your mobile phone
Consumers also can receive free, location-based Wireless Emergency Alerts (WEA) notifications on capable mobile phones under a national public safety warning system designed to alert consumers during emergencies. WEA messages feature a special tone and vibration that is repeated twice so users can easily identify these types of emergency alerts.
Click here to learn how to enable these alerts on your mobile phone.