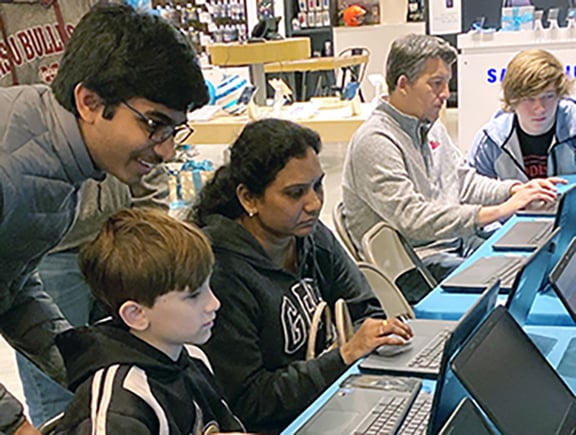 How does a technology company like C Spire kick off Computer Science Month? With food, tech prizes and putting on display the coding skills of aspiring teen computer science gurus, of course.
In early December, C Spire hosted a student-led Hour of Code event in six cities throughout Mississippi for students of the C Spire Software Development Pathway, a Tech Movement initiative focused on Building Mississippi's future through technology and education.
[View the Hour of Code Facebook photo gallery]
At each of the six C Spire retail stores, an iPad was given away and snacks served as students presented their work in web and app development to an audience of their families, C Spire staffers and fellow students. They showed the new programming languages they are learning and how their work is helping community businesses boost their online presence.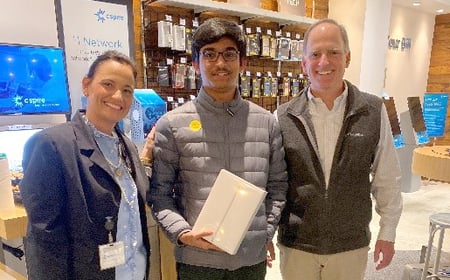 "It was a lot of fun," said 14-year-old Anish Bandari, who also won an iPad. "My family was able to see the new programming languages I'm learning and how the C Spire Pathway is preparing me for my career."
Anish said he's participating in the C Spire Software Development Pathway so that he can pursue a scholarship for his higher studies and to work at NASA.
Check out our Facebook photo gallery of the Pathway students at the Hour of Code event here.
The C Spire Software Development Pathway

Today Mississippi has a need to fill more than 1,000 open computing jobs, and the demand for a tech-savvy workforce is continuing to grow. That's why
C Spire partnered with Mississippi State University to create the C Spire Software Development Pathway. In its pilot year with roughly 75 students, our aim is to prepare students with quality education and training in a relatively short time frame to be positioned for an exciting career in an area of high-demand, significant salary, and unlimited entrepreneurial possibilities.
C Spire is bringing together high schools and community colleges to teach students skills in coding, project management, collaboration and web design.
How does it work?
The Pathway consists of two years of high school courses followed by one year at a local community college, culminating in multiple industry certifications and an Associate of Applied Science. With the appropriate guidance, students could graduate from high school with up to 27 credit hours at their local community college. This would put them on track to graduate after only one year of community college and ready to enter the workforce as a junior software developer. Learn more about C Spire Software Development Pathway here.
Computer science education matters
C Spire is committed to advancing technology throughout the state of Mississippi by investing in the lives of students. The Software Development Pathway is one piece of C Spire's Tech Movement, an initiative that works with the community, educators, and business leaders to expand computer science education and introduce students to the incredible things they can accomplish through it. Computing jobs are the number one source of new wages in the U.S., but only 18% of Mississippi public high schools teach computer science. Code.org reports that Mississippi only graduates about 200 computer science students annually even though there are more than 1,000 open computing jobs in the state.
You can help.
We need your voice in order to bring more computer science education to Mississippi schools. You can help us make a difference in the lives of future technology leaders. Join us and learn how you can help bring computer science education to Mississippi schools. Learn more here.