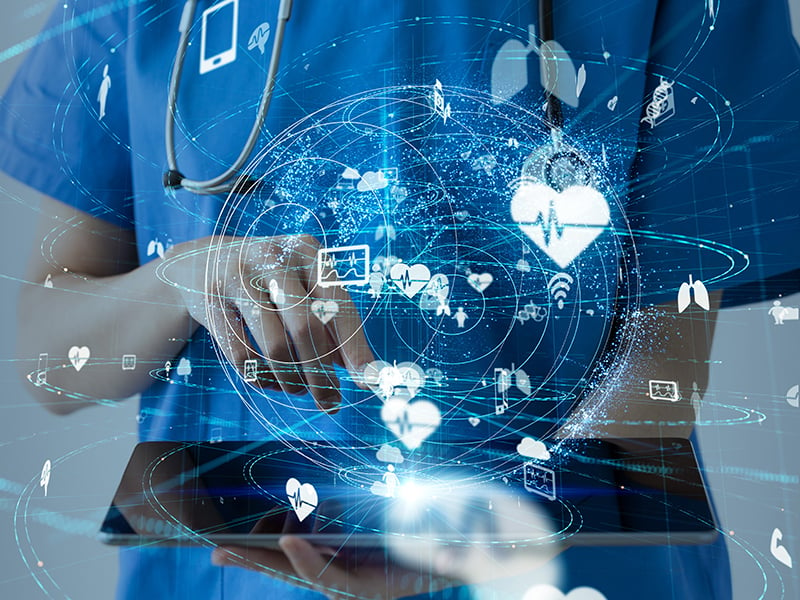 Sometimes your medical needs don't require you to visit a doctor in their office. Runny noses, cough, fever and much more can be treated over a mobile phone.
Nearly three-quarters of all doctor and urgent care visits could be handled safely and effectively via telehealth solutions without visiting a clinic, according to a 2015 American Medical Association study.
With telemedicine, you can have a video chat with a nurse practitioner or another qualified medical professional to diagnose and treat an array of illnesses.
Here are four reasons why telemedicine may be just what the doctor ordered.
Put social distancing into practice
One of the most effective ways to avoid contagious illnesses is to practice social distancing, or avoiding close contact with other people. That not only means limiting face-to-face interactions, but also avoiding group gatherings and crowded spaces. By putting distance between yourself and others, you minimize the threat of receiving or transmitting harmful germs and viruses. Telemedicine is the best way to get medical care while putting space between you and a potential new infection.
Faster access to minor medical care
We get it—sitting in a crowded waiting room isn't your idea of a good time. That's when being able to schedule and complete a medical visit from your phone can be a relief. You have your pick of available times and visits take minutes. Clinicians can prescribe medications during a telemedicine visit and set up an office follow-up visit if needed.
Get treatment wherever you are
When you're feeling ill, the energy spent getting up, dressed and to the doctor's office only adds to your discomfort. Staying on the couch or in bed is a much more convenient way to get medical care. Patients who have difficulty getting around or don't live close to a doctor's office can use telemedicine for care, too.
No insurance, no problem
Mississippi has one of the highest uninsured rates in the U.S. That means healthcare can be a barrier to many of us, our friends and our neighbors. But certain telemedicine services like the C Spire Health app, a partnership with the University of Mississippi Medical Center, don't require patients to have health insurance. The service costs the same no matter your insurance status.
Schedule an appointment when it's convenient for you
Medical professionals who provide care through telehealth services usually keep more flexible hours than a typical office. Through the C Spire Health app, patients can see a University of Mississippi Medical Center provider Monday through Friday from 7 a.m. to 9 p.m., or on Saturday from 8 a.m. to 5 p.m.