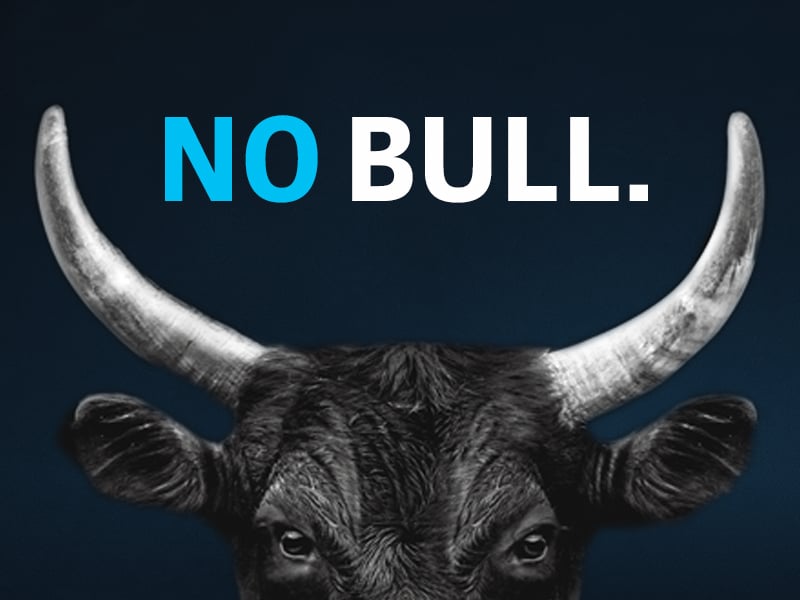 Wireless carriers aren't known for making their plans easy on consumers.
So, when their plans and deals seem too complicated, take it as a sign. What may look like a good deal at first can turn out to be a lot pricier than you expected, once you add the additional lines you have to buy, line-access fees and other schemes.
That's why we decided to cut through the bull on our Real Deal Plan. It's pretty straightforward: you get a single line with a generous 10 GB of data every month—nearly double the 5.6 GB of data the average person uses—for just $45/month when you sign up for AutoPay and paperless billing. And you can add as many lines as you want at that price.
Here's what we found when we stacked the C Spire Real Deal plan against AT&T and Verizon.
How AT&T falls short compared to the Real Deal.
AT&T leads with a sweet-sounding $35 per line deal. Except it requires you to purchase four lines to get that price. Adjust the smart phone icon from "4 Lines" to "1 Line," and you'll see the actual single-line price is $60/month. At that price, your monthly allotted data tops out at 9 GB, a full gigabyte less than the C Spire Real Deal plan.
Exhibit A:

Would you believe that Verizon is even worse?
Second verse, same as the first: With prices starting at $35/month, a single line under Verizon's shared data plan sounds like a great deal. At least until you start poking around and see that $35 plan comes with only 2 GB of data. To get anywhere close to C Spire's 10 GB of data, you have to opt for their $70/month plan, and it's still 2 GB short on data. Wait, hang on—we just read their fine print, and there's also a recurring $20 line-access charge. Make that $90/month.
Exhibit B:

At C Spire, we know that consumers clearly want a solid, affordable option for one or two lines. Click here to learn more about the C Spire Real Deal wireless plan.

Go ahead. Nothing to Hide.
The C Spire Real Deal Plan promotional price includes $5/mo credit with AutoPay and paperless billing.
Postpaid plan available for phones only. Tethering/mobile hotspot usage not included. Phones under POC are not eligible to receive this plan. To keep plan, upgrades must be purchased on DPP or at full retail price. Network Management: Service and/or service plans may be changed, slowed, suspended, terminated, and/or restricted based upon usage, location, roaming, interference with our network or ability to provide quality service to other users, or for any reason in C Spire's sole discretion. Data usage and service quality varies by device, apps, available network speeds, roaming, file sizes and/or as a result of update settings. For full terms governing service see cspire.com/customerserviceagreement. Other restrictions, fees, and taxes may apply.
Competitor pricing comparisons of the C Spire Real Deal $45 10GB plan based on pricing data for comparable postpaid wireless plans as follows: AT&T 9GB Mobile Share Plus pricing $60 for one line after autopay and paperless billing discount, plus taxes and fees as listed on https://www.att.com/plans/wireless/mobile-share-plus.html Verizon 8GB shared data plan $70 for one line plus $20/mo. line access charge per phone, plus taxes and fees as listed on https://www.verizon.com/plans/#shared. Pricing current as of 6/18/20. ©Copyright C Spire 2020.