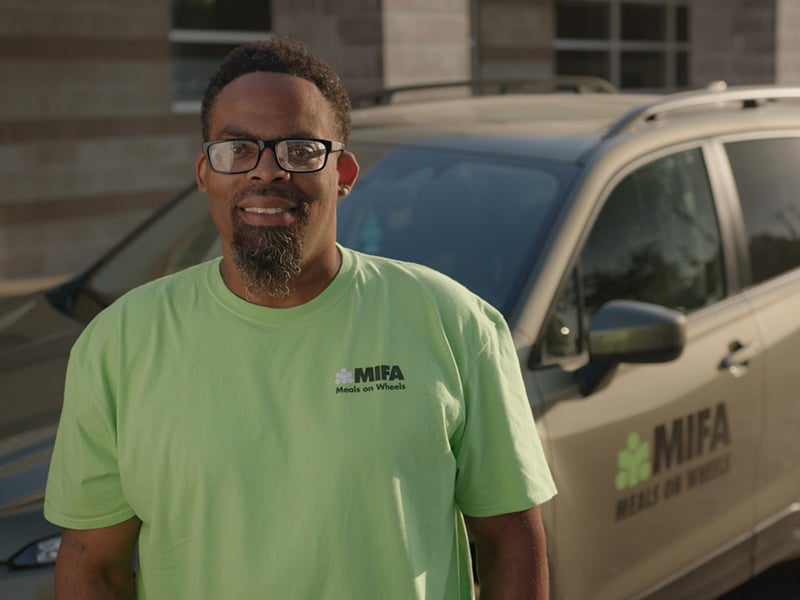 Families and seniors in need in Memphis, Tennessee, have a crucial lifeline in the Metropolitan Inter-Faith Association (MIFA), a non-profit organization that has provided vital services for decades.
"MIFA has been serving families and seniors since 1968," says Craig Wood, director of senior services at MIFA. "We have the emergency services side, and they help with rental assistance as well as utility bills. And [through] the other side, Meals on Wheels, we deliver meals to seniors daily."
Founded by faith leaders from across racial and denominational divides in Memphis, MIFA responded to the need for a unified effort to support the city's vulnerable populations. Five decades later, Memphians are still answering the call to serve, helping MIFA provide 550,000 meals every year to 3,500 seniors through its Meals on Wheels program.
Four days a week, staff and volunteer drivers line up outside MIFA headquarters, load their vans with boxes of meals, and disperse to deliver them to seniors across the city. Rodrick Hayes, who has been delivering meals to clients for one year, says MIFA's help is crucial—but providing them with meals is only part of it.
"The clients, they don't have people to talk to, and most times, I'm the only face they see for that day—maybe for that week," he says. Hayes has built relationships with the people he serves that go beyond filling their daily food needs. "Some clients that are not even on my list still call my phone just to check on me."
MIFA drivers stay connected during their deliveries through the C Spire wireless network, which keeps them covered across the 300-square-mile city and beyond. They're able to use GPS to locate their clients' homes, as well as get important information such as delivery instructions. The drivers often call their clients to make sure they know they're coming.
"It's mission-critical to have that information when you're out delivering in these areas, 'cause losing that connection could cause that senior to miss a meal," says Wood. "Having C Spire, we're still able to have our GPS connections, and we can call these individuals ahead of time. It helps us complete our job."
For driver coordinator Shay Whitaker, who started as a MIFA driver out of high school and now oversees the daily deliveries, the mission is fulfilling.
"It's exciting to see a person happy they got something to eat that day, or they'd seen somebody that day. You can brighten up their day just with a smile and a hot, nutritious meal."