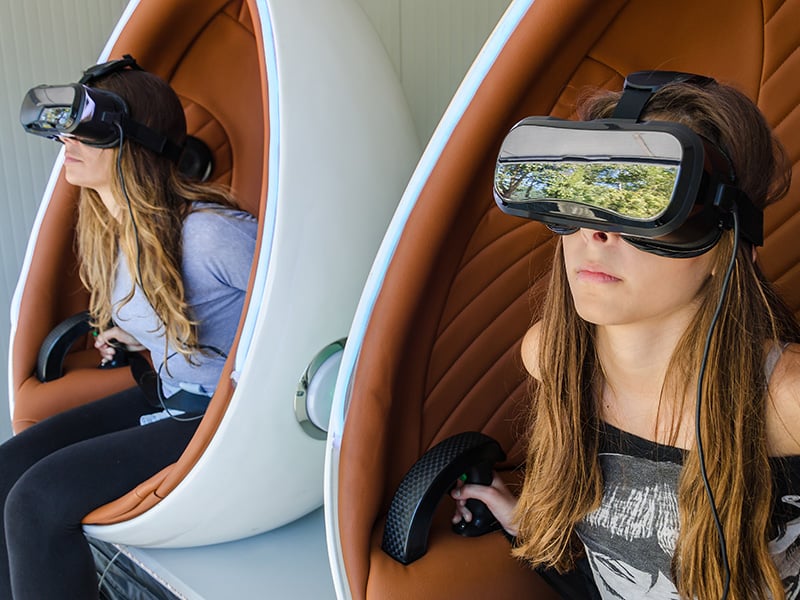 Watching all the new tech gadgets roll into the news feed on a near-daily basis can be dizzying. How can there possibly be 8k video when we're just getting used to 4k TV resolution? Like the pop philosopher Ferris Bueller once said, "Life moves pretty fast." Hopefully your internet does, too.
Maybe you have your eyes set on adding a new gaming system or even a virtual reality headset to your entertainment lineup. Better think about your home network first. Will your internet connection be able to handle the bandwidth demand alongside your dozen or so other connected devices that are constantly competing for juice?
As you'll see, it adds up fast. Let's look at some of the newest tech gadgets and how they can affect your internet performance.
Watching TV in 4k? Try 8k.
First up, let's talk about the new 8k televisions. Netflix's 4k streams require a connection speed of at least 25 Mbps to display content properly without buffering. Early tests indicate 8k streams will need at least double that, bare minimum. Sounds manageable, but that kind of draw can sneak up on you. Experts like CNET.com are passing on 8k sets in the short term, simply because there isn't much content shot in 8k resolution available right now, but there are other merits you may want to consider.
TV makers like Samsung are incorporating artificial intelligence to ease the transition to 4k and 8k sets. Their AI Upscaling feature is designed to bridge older content to these new screens. All TVs made in the last decade do some form of upscaling to enlarge older, lower-resolution content for viewing on these new sets, and they all have their own ways of working. But they're usually one-size-fits-all filters—and what looks good for sports may not look good for movies. Samsung's AI Upscaling uses artificial intelligence to recognize what type of content you're watching and apply one of more than 100 specialized filters.
Gaming in 3 … 2 … wait for it … 1 …
Ask any gamer—buffering can derail your live gaming experience with annoying lag that freezes your screen. It only takes a fraction of a second to fall behind, too. While you're waiting for your internet to snap out of it, the game has moved on without you. But that's not all. Most internet providers advertise peak download speeds, and oftentimes the upload speeds (the time it takes for information to travel from your device to the internet) are much slower. Unless you have symmetrical speeds, meaning your down/up are the same, the extra upload time can really handicap your game.
These are all worth taking into account when you're looking at new gaming consoles like the Sony Playstation PS5 and the Microsoft Xbox Series X, which give you true 4k gaming at up to 120 frames per second (24 FPS is the standard for movies). The PS5 will even support screen resolutions up to 8K, as well as immersive 3D audio when using a headset. There aren't a lot of dedicated games for either platform yet, but they're both backward compatible to previous versions of the consoles so you can still play your favorites. But it's recommended you have an internet connection of at least 100 Mbps to play.
Getting real about virtual and augmented reality
Virtual and augmented reality games are next frontier in gaming, and internet speed is more important than ever. Instead of merely being frustrating, a lagging VR experience could actually cause motion sickness by taking your movements out of step with the visuals. High-quality virtual reality experiences could require speeds of 600 Mbps, and in some cases even more, while suggested augmented reality speeds start at 100 Mbps.
For example, the virtual reality platform getting the most buzz right now is the Oculus Quest 2. With its whopping 60 GB of RAM storage, there is a lot of processing driving the immersive experiences in games like "Star Wars: Tales from Galaxy's Edge." The Valve Index system, from gaming platform Steam, has been praised for its full-bodied sound and subpixel-loaded dual 1440x1600 RGB LCD screens. Users can access a library of Steam games on the device. Although most VR platforms have overlapping content, make sure the headset you choose supports the games you want to play.
Does your home internet speed measure up? Check your address here to see if C Spire Fiber, which internet speed analyzer Ookla recently verified as the fastest home internet in Mississippi, is available in your neighborhood.