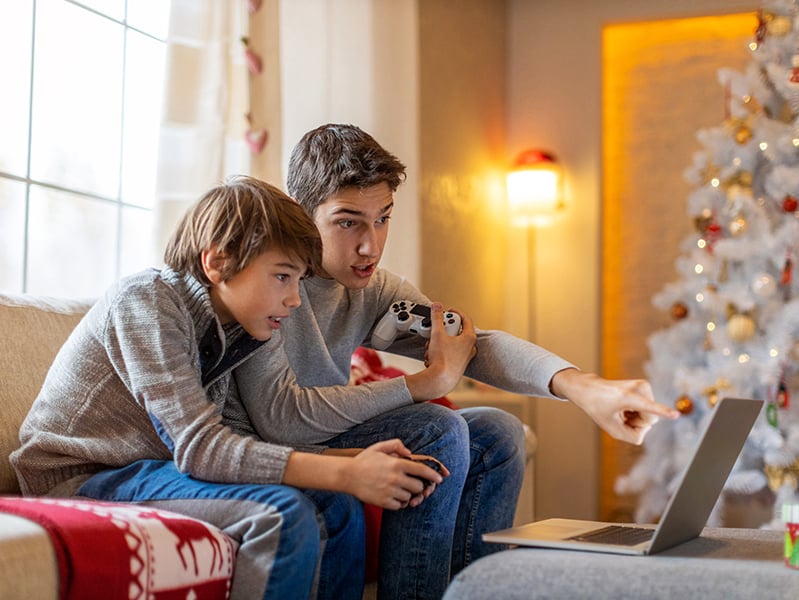 Family time over the holidays is always better with some spirited gaming. These days, though, you're just as likely to play games online or on a console than a board game. Here are some fun suggestions for making a festive holiday.
Lego Dimensions
As the most beloved building-block universe ever created, Lego has only grown more popular over the years. Now—in addition to all the franchise Lego sets, feature-length movies and so much more—you can play Legos in the virtual world, too. Lego Dimensions is a multi-player adventure game that blends Lego toys with fantasy worlds in which players solve puzzles and defeat enemies as they advance through a strange universe. The game features characters and worlds from Harry Potter, The Lord of the Rings, Ghostbusters and 27 additional franchises. Play on PlayStation PS4, PlayStation PS3, Wii U, Xbox One and Xbox 360.
Super Mario 3D World + Bowser's Revenge
Generations have grown up playing Super Mario games, which makes Super Mario 3D World + Bowser's Revenge a great game to play with family. Players can explore eight worlds that feel both familiar and fantastic as characters Mario, Toad, Luigi, Peach or Rosalina. Bowser's Revenge is a separate, bonus adventure with its own set of objectives, which players must complete while avoiding the looming presence of Fury Bowser. Play on Nintendo Switch.
Minecraft
Minecraft is one of the best-selling video games of all time, with 200 million copies sold across all platforms and 126 million monthly active users. Players create buildings using supplies they find in the world around them and explore a world made of their own creativity in a 3D space. There are multiple play modes, including Survival, in which players have to gather natural resources, and Spectator mode, which enables players to observe without interacting. The popular franchise has spun off many special editions. Play on Windows 10, iOS, Android, Amazon Kindle Fire, Xbox One and Nintendo Switch.
Among Us
The ultimate PC-based multi-player game of teamwork and betrayal, Among Us surged in popularity in past two years as friends and family often met online instead of in person. In the game, four to fifteen players staff a spaceship hurtling through outer space. You and your co-players complete tasks to get to your destination, but someone—or multiple players—are saboteurs in disguise. The objective is to root out the enemies before it's too late. How's that for holiday togetherness? Among Us is available on mobile, PC, Nintendo Switch, PS4, PS5, Xbox One and Xbox Series X/S.
Before you game, make sure your home internet is up to the job. Check for C Spire Fiber home internet availability here.