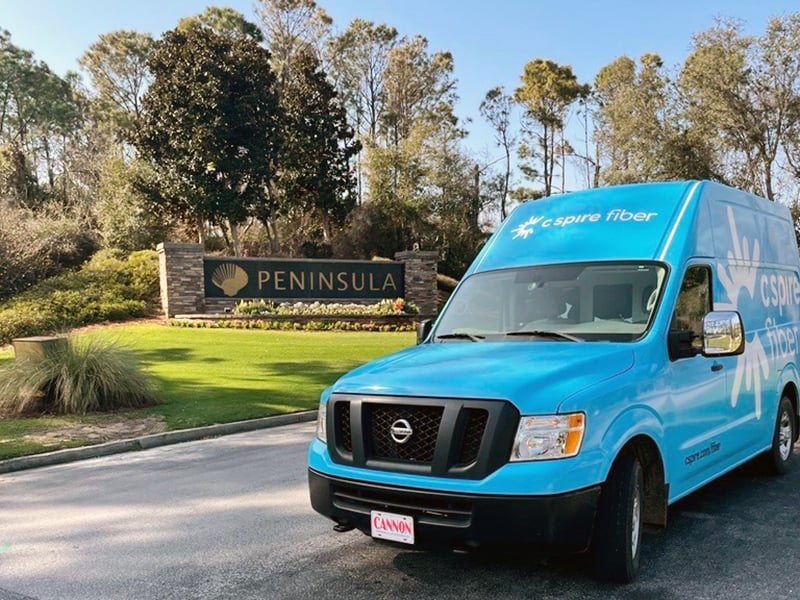 Finally, there is truth to the saying that a rising tide lifts all boats. As the seventh-fastest growing metropolitan area in the U.S. and the fastest-growing county in Alabama, Baldwin County continues to rise along the state's Gulf Coast.
Over the past decade, more than 50,000 new residents have flocked to the shores that span Fort Morgan to Perdido, and to the idyllic inland communities from Foley to Fairhope. What hasn't risen in as swift a manner is access to broadband fiber internet, the future-proof driver of commerce, education and quality of life in our communities.
Today, less than 30 percent of homes in Alabama have access to fiber, yet broadband internet powered by fiber optics is recognized as an indicator of growth and a bellwether of future opportunity. And wherever we go, residents are responding. Since arriving in Lower Alabama in 2020, we have brought fiber to several neighborhoods—we like to call them "fiberhoods"—in Gulf Shores, Foley and Orange Beach, with more on the way there and in other communities. In those areas, we've seen customers sign up at twice the typical rate.
"Fiber has long been a must-have in economic development; now it is a must-have as a community," says Lee Lawson, president and CEO of the Baldwin County Economic Development Alliance. "With C Spire's growing fiber investment in our community, we can confidently now service the tremendous residential and business growth in Baldwin County. C Spire Fiber in our community will help propel us as one of the fastest-growing communities in the U.S."
For businesses, C Spire Fiber internet's symmetrical Gigabit speeds mean the information you want is here, now; and documents you want to send are there, now. Residential homes hooked up to fiber can stream, surf and game on every device without buffering or slowing down. For startup entrepreneurs and remote workers based at home, fiber can be a lifeline.
"In order to have a fighting chance, startups need the speed and reliability of fiber internet or else they can't compete," says Miller Girvin, executive vice president of innovation and entrepreneurship at the Economic Development Partnership of Alabama.
C Spire will build on its 17,000 miles of managed fiber as the cornerstone of the Ridgeland, Mississippi-based company's three-year, $500 million fiber infrastructure investment in Alabama. And our expansion into Mobile County and communities to the north like Trussville, Tuscaloosa, Jasper and Dothan continue to raise the economic bar across the state.
Ben Moncrief, executive vice president for Alabama markets at C Spire, says demand for fiber has been high throughout the region, both during construction and well after the utility trucks have put everything back into place. And the company is always looking to work with communities whose citizens and leaders are engaged in creating a positive, shared future.
"We're constantly asked about public-private partnerships to bring fiber to new communities, and the truth is we're open to all options," says Moncrief. "We go to the places where our services are demanded, whether by leadership, the citizens or both."
To learn more about C Spire's ultra-fast broadband fiber or how to start their own neighborhood or community crowd-sourcing campaign, interested residents should visit www.cspire.com/fiber or email fiberchampions@cspire.com.