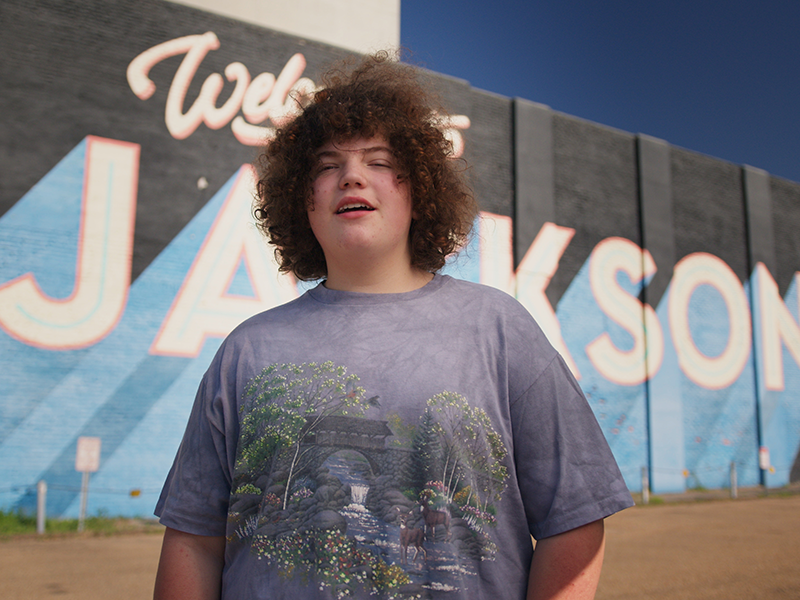 One of the marvels of the internet is how it has managed to broaden our horizons while making the world somehow feel smaller. High-speed, broadband fiber internet has taken it one step further, leveling the playing field so where you live isn't as important as what you can do.
For 15-year-old Prentiss Furr, it means he can make music with the power to move people around the world, all from his bedroom in Jackson, Mississippi, over his family's C Spire fiber internet connection.
Creativity unleashed
This fall, Prentiss will release his debut album. It's the latest stop in a wild ride that started in 2020 when he recorded and posted a song called "October" online for his friends to hear.
"People started liking it," Prentiss says, sitting in the chair where he recorded the song. "It was up to, like, a hundred thousand plays. It was wild."
Those "other people" happened to include some well-known rock stars and celebrities who fanned the flames even higher. Mark Hoppus of blink-182, who Prentiss name-drops in "October," shared his post.
Then, when he dropped the track "Hazel Eyes," Justin Bieber put it on his Instagram story. His star was rising on the home front, too, thanks to a showing of his homemade video for "October" during the Egg Bowl rivalry football game between Ole Miss and Mississippi State.
"He came in one day and he said, 'I have a manager,'" recalls Denise Furr, his mother and a Jackson-area real estate broker. "And we're like, 'for what?' That's when we figured out, wait, this could be serious."
Denise and Bill Furr accompanied Prentiss to New York to meet with record labels. "They sat us at a big table and told us how much they wanted Prentiss," she says. "I mean, this was all done in his bedroom and with his internet connection through C Spire."
How C Spire Fiber helped
"C Spire Fiber helps me connect to anybody in the world," Prentiss says. "I was making music with my Canadian friend on [social app] Discord, and it was like that [snaps fingers]. It was exactly like being in the studio. How easy it is to transfer, and how fast it is to transfer files makes it so easy to make music on my computer."
Prentiss shares his family's fiber internet connection with his parents, who both work from home, as well as siblings and extended family on holidays. Through all the videoconferencing—not only from his parents, but also Prentiss, who now conducts business meetings with his manager and label remotely from home—plus live streaming and having the family's laptops, tablets and smartphones connected, their C Spire Fiber connection doesn't blink.
"You used to have to fly out to New York to work with producers or talk with record companies, [but] now it's all from just a tap of the button in your own home," Prentiss says. "I have the creative side, and C Spire's got the whole internet side. It's just something I don't need to worry about."
Ready to see if C Spire Fiber is available in your corner of C Spire Country? Check your address for service here.
Live and archival footage of Prentiss courtesy @AlwaysAden