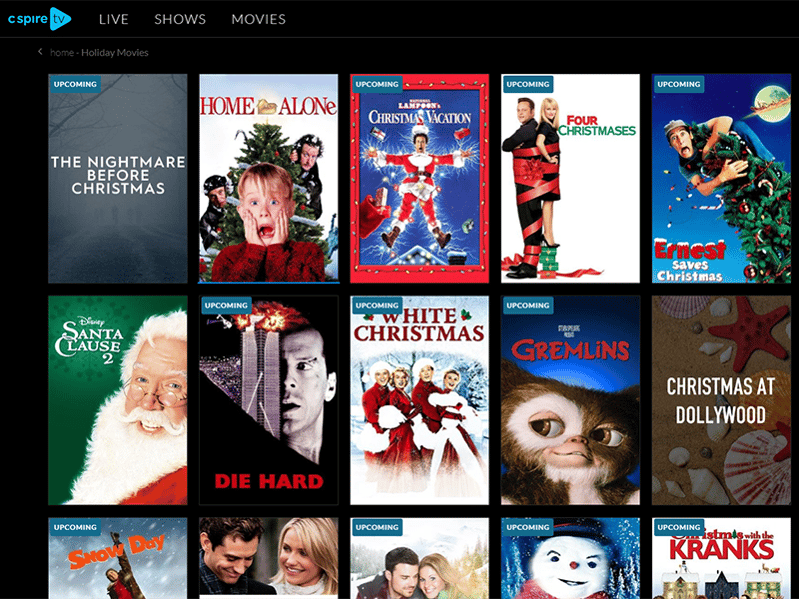 Looking for ways to unwind from all the holiday prep, shopping and festivities this Christmas? Then we have just the thing for you. Relax and watch your favorite Christmas and holiday movies on C Spire TV. Here are five Christmas classics you can watch on C Spire TV this season.

Dr. Seuss's How the Grinch Stole Christmas (2000)
4:40 p.m. CT Christmas Eve on Freeform, ch. 102
In this live-action adaptation of the beloved children's tale by Dr. Seuss, the reclusive green Grinch (played Jim Carrey) decides to ruin Christmas for the cheery citizens of Whoville. Reluctantly joined by his hapless dog, Max, the Grinch comes down from his mountaintop home and sneaks into town to swipe everything holiday-related from the Whos. However, the bitter grump finds a hitch in his plan when he encounters the endearing Cindy Lou Who (played by Taylor Momsen).
Home Alone (1990)
4:10 p.m. CT December 23 on Freeform, ch. 102
When bratty eight-year-old Kevin McCallister (Macaulay Culkin) acts out the night before a family trip to Paris, his mother (Catherine O'Hara) makes him sleep in the attic. After the McCallisters mistakenly leave for the airport without Kevin, he awakens to an empty house and assumes his wish to have no family has come true. But his excitement sours when he realizes that two con men (Joe Pesci and Daniel Stern) plan to rob his family's residence, and that he alone must protect the family home.
National Lampoon's Christmas Vacation (1989)
9 p.m. CT December 21 on AMC, ch. 104
As the holidays approach, Clark Griswold (Chevy Chase) wants to have a perfect family Christmas, so he pesters his wife (Beverly D'Angelo) and children as he tries to make sure everything is in line, including the tree and house decorations. However, things go awry quickly when his cousin Eddie (Randy Quaid) and his family show up unplanned and park their camper at the Griswold residence.
Die Hard (1988)
7 p.m. CT Christmas Day on Paramount, ch. 636
New York City policeman John McClane (Bruce Willis) is visiting his estranged wife and two daughters on Christmas Eve when he joins her at an office Christmas party. The festivities are interrupted by a group of terrorists who take over the hise-rise and capture everyone inside. Soon, McClure realizes there's no one except him to save the hostages.
The Muppet Christmas Carol (1992)
4 p.m. CT Christmas Day on Disney XD, ch. 554
The Muppets perform the classic Charles Dickens holiday tale, with Kermit the Frog playing Bob Cratchit, the put-upon clerk of Ebenezer Scrooge (Michael Caine). Miss Piggie, Gonzo, Fozzie Bear and Sam the Eagle weave in and out of the story while Scrooge receives visits from the spirits of Christmas past, present and future.