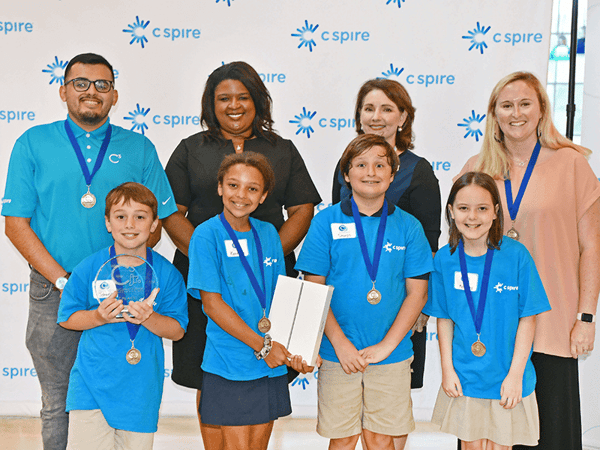 The C Spire team awarded three Jackson-area elementary schools the top three spots in our second annual statewide C Spire C3 Jr. coding challenge. Teams of fourth grade students from 15 public and private schools across 14 counties competed for bragging rights and tech-related prizes.
C3 Jr. is part of the broader C Spire Tech Movement, designed to build a better future for Mississippi through tech and education. In Mississippi, there are over 1,000 open computing jobs and only 207 computer science graduates a year. With an average salary of $70,000, this is currently an $80-million dollar opportunity for the state that will only continue to grow. Coding challenges like C3 and C3 Jr. introduce kids to valuable coding skills that can pique their interest in a rewarding tech career.
Madison Ridgeland Academy won first place in the competition, with Barak H. Obama Magnet Elementary in Jackson placing second and Eastside Elementary School in Clinton finishing in third place. All three teams won a trophy, an iPad tablet, the Cue robot and other related tech prizes.
"It was a fun, entertaining and educational half-day for all of the students who participated in the challenge," said Carla Lewis, chief technology officer for C Spire. "Programs and partnerships with organizations like the Mississippi Children's Museum can help inspire and encourage young people to seriously consider IT and computer science as an academic and career path."
Check out the photo gallery and read more about the event and winners.