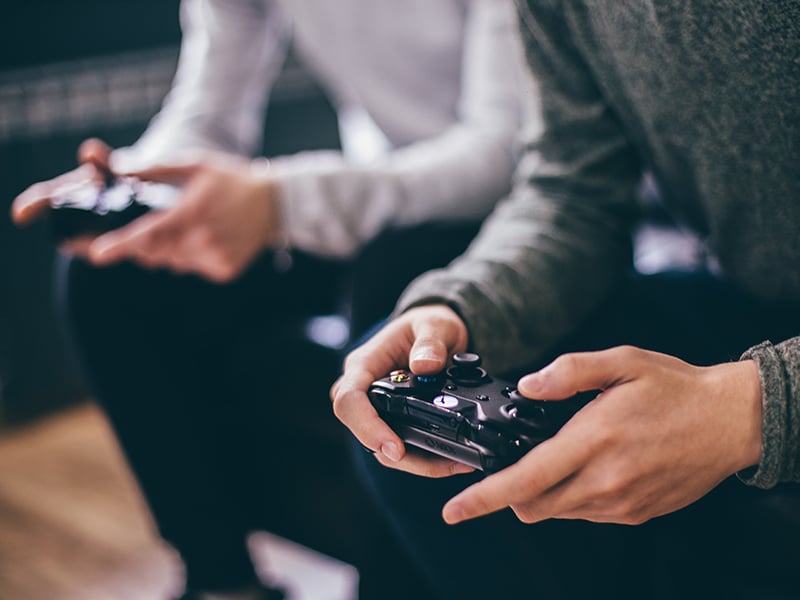 Okay player, this is your time to shine. The 2020 holidays may be your only chance to disappear behind a gaming screen in the middle of family festivities. In fact, there's a good chance you'll have some familiar company.
Experienced gamers already know how much fun you can have gaming with family and friends. With so many people reluctant to travel, gaming offers ways to keep us in touch while socially distancing this holiday season. From online group gaming platforms to multi-player console games, we have you covered.
Let's run down some of the most popular ways to connect with friends and family through online ​and group gaming platforms.​
Mario Kart 8
Mario Kart 8 has evolved for more than 25 years to become one of the most popular video games ever. As such, it has wide appeal to kids, teens and adults. That makes Mario Kart a great choice for multi-generational online get togethers. The latest version includes characters and features from throughout the entire series, as well as all the best racetracks—48 total. In addition to the traditional Nintendo Switch game console experience, Mario Kart 8 is also available on Nintendo Switch Online so you can play long-distance relatives and friends.
Animal Crossing: New Horizons
Players in the Animal Crossing: New Horizons role-playing game work to create a thriving community while enjoying the day-to-day activities of life on their own island paradise. Other popular titles in the series include Animal Crossing: Pocket Camp, made for iOS/Android mobile devices, and Animal Crossing: Happy Home Designer for Nintendo 3DS. Like Mario Kart 8, Animal Crossing: New Horizons is available on both Nintendo Switch and Nintendo Switch Online.
Minecraft
Minecraft is one of the best-selling video games of all time, with 200 million copies sold across all platforms and 126 million monthly active users. Players create buildings using supplies they find in the world around them and explore a world made of their own creativity in a 3D space. There are multiple play modes, including Survival, in which players have to gather natural resources, and Spectator mode, which enables players to observe without interacting. The popular franchise has spun off many special editions. Play on Windows 10, iOS, Android, Amazon Kindle Fire, Xbox One and Nintendo Switch.
Just Dance
The Just Dance video game franchise has been a favorite since 2009, with more than twenty collections of competitive dancing set to the biggest hit songs. Up to six people can play at the same time on the console version, but if your circle of family or friends is bigger, download the mobile version, Just Dance Now, and invite them all (really—there is no limit). Better yet, it works on most mobile devices. Players just download the Just Dance Now App and then join you by entering the Dance Room number. Available on Nintendo Switch, Wii, Xbox and PS4.
Looking to stay offline this Christmas? The folks at O: The Oprah Magazine put together a list of 35 fun games and activities you can play without plugging in, like Christmas Song Emoji Pictionary, Holiday "Never Have I Ever" and the ever-popular Ugly Christmas Sweater Contest.
But before you game, make sure your home internet is up to the job. Check C Spire Fiber home internet availability here.
READ NEXT: Can your home internet handle the latest tech gadgets?