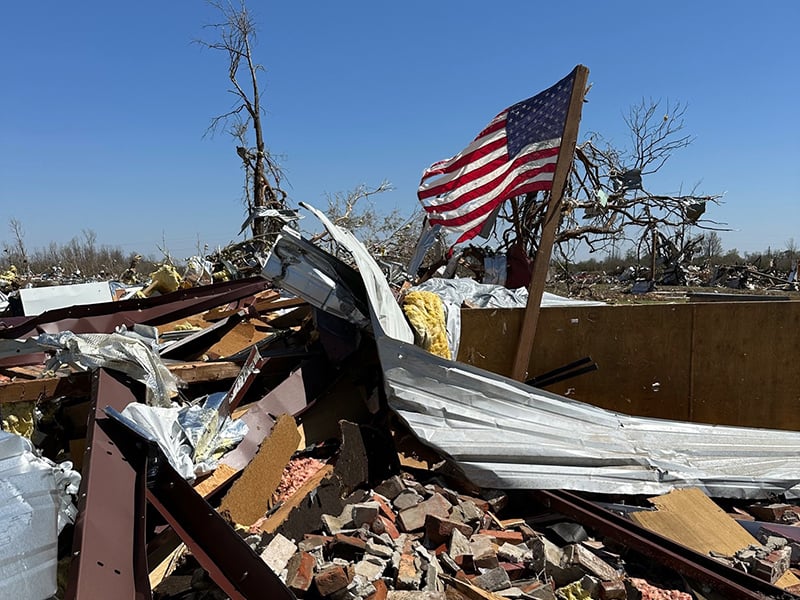 Over the course of three tragic hours on the evening of March 24, life changed forever for thousands of Mississippians.
Twenty-one lives were lost as a series of massive tornadoes cut a path of destruction across central and northeast Mississippi. A long recovery awaits the survivors, led by the Mississippi Emergency Management Agency, the Federal Emergency Management Agency, American Red Cross, and scores of local emergency management teams and individuals who are volunteering to provide food, clothes, shelter and funds to rebuild their lives.
In the wake of this tragedy, our team members across the state have mobilized to serve our customers and communities.
"Severe weather events are common this time of year, and our policy is not to get prepared, but to stay prepared," says Charles D. Watson, senior vice president of network operations at C Spire. "Our work begins long before the storms hit so we can get on the ground quickly."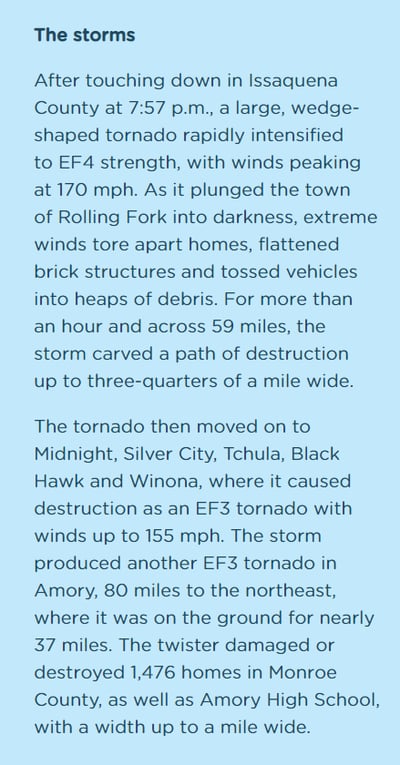 C Spire team members established two main fronts early in its network recovery operations overnight March 24—one in Rolling Fork, where C Spire cellular service remained active throughout and following the storm, and another in Amory, where winds toppled a cell tower. Network techs reported 25 cell sites were operating on automatic backup generators and batteries due to power outages as of 8 a.m. on March 25.
The first action C Spire took in Rolling Fork was to reroute 911 calls from Sharkey County to Warren County, since the local 911 emergency center in Rolling Fork was destroyed. By March 27, our teams had provided 10 routers and hotspots to emergency agencies, as well as a wireless router to a local pharmacy so people could get their medications, and to a local insurance agency so the claims process could begin immediately.
Our business team established a call center for Disaster Unemployment Assistance, which routes calls directly to agents and bypasses standard call flows to expedite responses for disaster unemployment in the impacted areas. We are also aiding efforts to stand up an overall emergency operations command center in town.
"We are standing by to deliver fiber connectivity to the Sharkey-Issaquena County Health Department building in Rolling Fork once more permanent EOC operations are established," says Karl Arndt, director of government wireless accounts at C Spire.
As of March 27, C Spire had also activated additional network speed and capacity in Rolling Fork to accommodate the increased usage by first responders.
In Amory, where a tornado destroyed a cell tower, C Spire was on-site with a Cell on Wheels (COW) temporary tower the following day and restored wireless service to customers overnight. Team members also provided fiber internet to run the EOC in Amory and WiFi to aid the Monroe County Sheriff's Department and other responders in the area.
"At our core, C Spire is customer inspired—it's right there in our name," says Alan Jones, chief network officer at C Spire. "But our teams' tireless response to this tragedy has inspired us all."
The C Spire Foundation has donated $25,000 to the American Red Cross to aid in tornado relief. Please check cspire.com for more recovery updates. Learn how C Spire stays prepared for storms and make sure your device is weather-ready here.
How you can help with storm recovery
The following organizations are engaged in relief efforts and need your support.
Mississippi Emergency Management Agency
View list of needs and locations for donations
American Red Cross
Donate online
Salvation Army
Donate online
Mercy Chefs
Donate and volunteer online