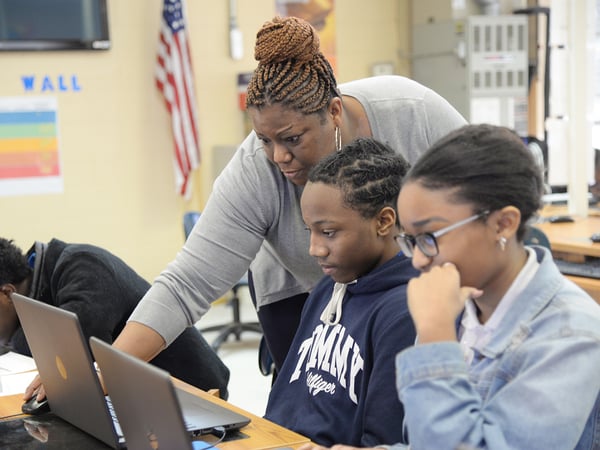 The students at Northside High School in Shelby, Miss., look out the window to see the shape their futures will take.

The Dollar General is the nearest employer in this small Delta community. Not far away, a regional medical center might offer some jobs. There are multiple farms scattered around the area. The students could teach, though Northside is the only school to serve grades 7 through 12 for five communities in the area. Walmart and a few fast food restaurants aren't too far away.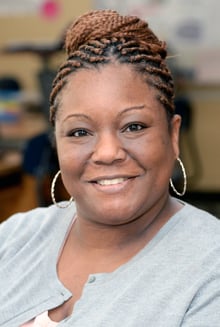 So when their teacher Natascha Woods sets before them the possibility of computer science as a field to explore, she must also broaden their horizons to include new ways of thinking about earning a living. "Computer science is a way to build a strong career and a stable future. It can change their lives," she said.
"Since February is Black History Month, I assigned my students to make posters about African Americans in computer science. They had to research a person and what they accomplished. I want them to see what inspired that person to become a computer scientist."
Natascha's Exploring Computer Science class touches on topics her students, mostly ninth-graders, have never considered: programming, web design, artificial intelligence, e-textiles and robotics. This is the second year Northside has offered the class, and Natascha has taught it. Less than 50 percent of Mississippi's public high schools are teaching computer science.
'That was an eye-opener'
Natascha admits that a lot of her students are skeptical about the usefulness of what she's teaching. "We're in a rural area. They think, 'We're not going to use this. How can I go any further with this?' " she said. "So I tell them you have to know the background of how things work."
They also need to understand the future job market.
Computing jobs are the number one source of new wages in the U.S. And code.org reports that Mississippi colleges graduate about 200 computer science students each year even though there are more than 1,000 open computing jobs in the state.
Natascha tries to expose her students to programs that broaden their horizons, like a STEM workshop they recently attended that built on their classroom work. "That was an eye-opener for them," she said.
For the first time, her students from Northside will compete in C Spire's C3 Coding Challenge in March. "I entered four of my students," she said. "We're very excited about that."
Next fall, she hopes to offer an Advanced Placement computer science class. It would give her most interested students a big push toward a career in that field and possibly earn them college credit as well.
"I have a few young ladies who would like to consider the next step in learning about computer science. That class would be the deciding factor for whether they'd go on and pursue it."
'Computer science should be mandatory'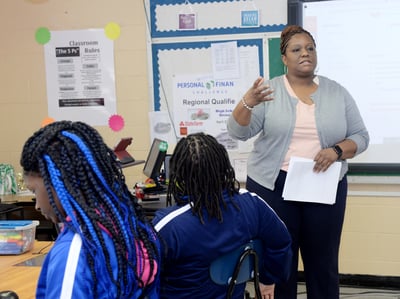 The hurdle Natascha's students must leap is believing that computer science is for them. "Nobody is pushing it, and they're thinking it's not important," she said. "Nobody is making it relevant for them. They are more receptive to popular things. When they see somebody who's done something, they get it."
That's why Natascha is always looking for coding events and technical programs her kids can attend. "They need to know this is actually out there. This is something they can do."
"Computer science, at least a basic introduction, should be mandatory in every school."
C Spire sounds alarm
C Spire is calling for legislative action to bring Computer Science to all Mississippi public schools. We are bringing before state leaders a bill that calls for every public K-12 school to provide computer science education. The bill will soon be introduced in the Mississippi House and Senate, where policymakers will vote on it. To keep up with the bill's progress, check out this Legislative Tracker on ourMSfuture.com
Join C Spire in telling state legislators to support the bill bringing computer science education to Mississippi schools by texting FUTURE to 50457 or visiting ourMSfuture.com.
UP NEXT: Tell your legislators you want computer science in every school