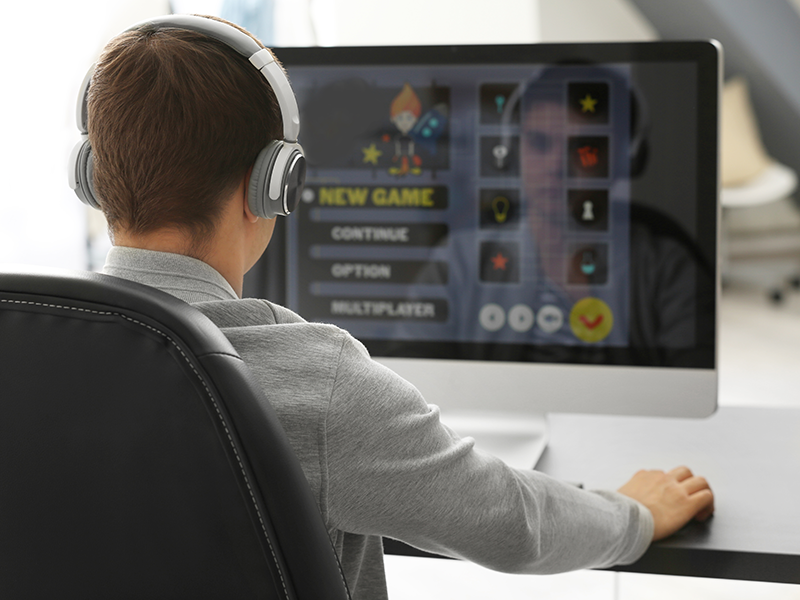 The widespread availability of broadband internet, and especially symmetrical fiber networks, have enabled online gaming to become truly global.
As players of all ages logon to their favorite games to play alongside or against friends and strangers around the block and around the world, parents are facing a new dilemma: What games are safe for their kids?
There is a lot to consider. Many popular games kids play online are free to download and play but solicit in-game purchases that allow players to enhance their gameplay and gain an advantage over other players. Players can often earn credits by playing the game, or skip the process by purchasing gift cards worth a certain amount of currency in the game.
Many online games have built-in chat windows that allow real-time social interactions among the players. However, there is no way to verify these players are who they say they are, and people who have bad intentions could easily compromise these chats. Parents should monitor these carefully, or better yet, disable the feature in games that allow it.
Check fiber availability in your neighborhood.
Using the online community Common Sense Media as our guide, we've summarized what you need to know about four of the most popular online games for kids. (Note: Common Sense Media scores are composites of individual rankings for educational value, positive messages, violence, consumerism and other criteria. See the website for more detailed analyses.)
Let's logon and learn.
Minecraft
Minecraft is one of the best-selling video games of all time, with 200 million copies sold across all platforms and 126 million monthly active users. Players create buildings using supplies they find in the world around them and explore a world made of their own creativity in a 3D space. There are multiple play modes, including Survival, in which players have to gather natural resources, and Spectator mode, which enables players to observe without interacting. The popular franchise has spun off many special editions.
In-Game Purchases: Minecoins
Chat: Yes
Platform(s): Windows 10, iOS, Android, Amazon Kindle Fire, Xbox One, Nintendo Switch
Common Sense Score: 4/5 stars (ages 8+)
Roblox
Roblox is a gaming ecosystem phenomenon with billions of sessions logged across games that attract more than 10 million active players every month. Its two most popular titles are the role-play games Adopt Me! and Work at a Pizza Place, which encourage interaction among players in non-competitive environments. Players can buy, sell and create virtual items like skins using Robux.
In-Game Purchases: Robux
Chat: Yes
Platform(s): PC, Mac, iOS, Android, Amazon Devices, Xbox One, Oculus Rift and HTC Vive
Common Sense Score: 4/5 stars (ages 10+)
Animal Crossing: New Horizons
Players in the Animal Crossing: New Horizons role-playing game work to create a thriving community while enjoying the day-to-day activities of life on their own island paradise. Other popular titles in the series include Animal Crossing: Pocket Camp, made for iOS/Android mobile devices, and Animal Crossing: Happy Home Designer for Nintendo 3DS.
In-Game Purchases: Yes
Chat: Yes
Platform(s): Nintendo Switch
Common Sense Score: 5/5 stars (ages 7+)
Fortnite: Battle Royale
The popular last-player-standing survival game franchise Fortnite is back with its latest edition, Fortnite: Battle Royale. Players skydive onto an island and scavenge for gear to defend themselves from other players in an always-evolving, multiplayer world. Although the premise of survival is often violent, the action isn't gory.
In-Game Purchases: V-Bucks
Chat: Yes
Platform(s): PC, Xbox, PlayStation, iOS, Android, Nintendo Switch
Common Sense Score: 4/5 stars (ages 13+)
When kids aren't playing videos games, they're often watching videos of other people playing games on YouTube. But there are ways to monitor activity and restrict access through YouTube's own Restricted Mode, as well as the Safe Vision app, which allows parents to filter only the YouTube channels you want your kids to access, set time limits and more.
Read more tips on how to keep your family safe from bad internet content and learn about C Spire fiber internet.