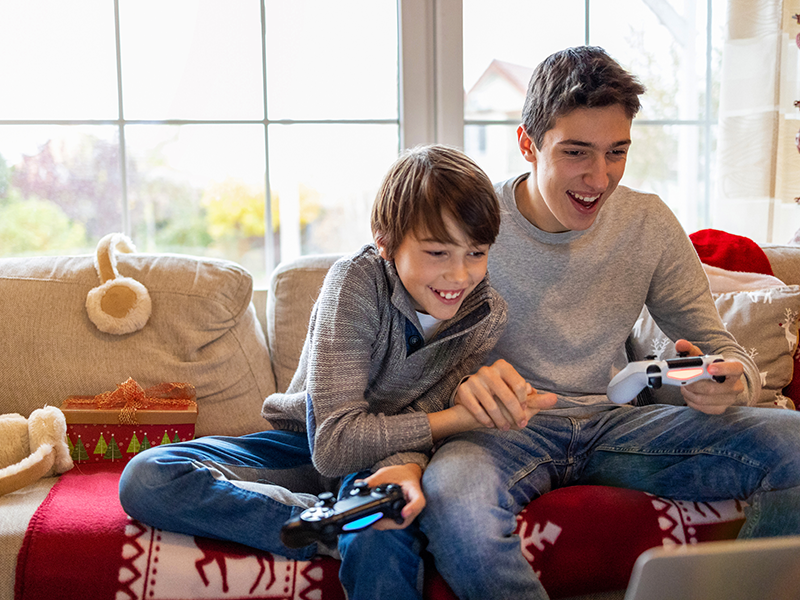 Family game nights are traditions in many households over the holidays, but it's not always about Monopoly, Risk, Battleship or other classic board games. Gen-Xers, Millennials and Gen-Zers have something in common that previous generations didn't: they all love video games.
Of course, the field of multi-player online and console gaming possibilities is vast, and who has time to search for a fun, family-friendly game between work, shopping, and oh yeah, sleeping? We've done your research and present here some of the most popular ways to connect with friends and family through online ​and group gaming platforms.​
Among Us
The ultimate multi-player game of teamwork and betrayal, Among Us surged in popularity in the last year as friends and family often met online instead on in person. In the game, four to fifteen players staff a spaceship hurtling through outer space. You and your co-players complete tasks to get to your destination, but someone—or multiple players—are saboteurs in disguise. The objective is to root out the enemies before it's too late. How's that for holiday togetherness? Among Us is available now on mobile, PC and Nintendo Switch, but PS4, PS5, Xbox One and Xbox Series X/S versions are due for release December 14, 2021.
Just Dance 2021
The Just Dance video game franchise has been a favorite since 2009, with more than twenty collections of competitive dancing set to the biggest hit songs. Up to six people can play at the same time on the console version, but if your circle of family or friends is bigger, download the mobile version, Just Dance Now, and invite them all (really—there is no limit). In the 2021 edition, you get 40 songs to choose from. But if you really want to break it down, subscribe to the Just Dance Unlimited streaming service for more than 600 songs. Available on Nintendo Switch, Wii, Xbox and PS4.
Animal Crossing: New Horizons
Players in the Animal Crossing: New Horizons role-playing game work to create a thriving community while enjoying the day-to-day activities of life on their own island paradise. Other popular titles in the series include Animal Crossing: Pocket Camp, made for iOS/Android mobile devices, and Animal Crossing: Happy Home Designer for Nintendo 3DS. Like Mario Kart 8, Animal Crossing: New Horizons is available on both Nintendo Switch and Nintendo Switch Online.
Mario Kart 8 Deluxe
Mario Kart has evolved for more than 25 years to become one of the most popular video games ever. As such, it has wide appeal to kids, teens and adults. That makes Mario Kart a great choice for multi-generational online get togethers. The latest version includes characters and features from throughout the entire series, as well as all the best racetracks—48 total. In addition to the traditional Nintendo Switch game console experience, Mario Kart 8 Deluxe is also available on Nintendo Switch Online so you can play long-distance relatives and friends.
But before you game, make sure your home internet is up to the job. Check C Spire Fiber home internet availability here.
READ NEXT: Can your home internet handle the latest tech gadgets?