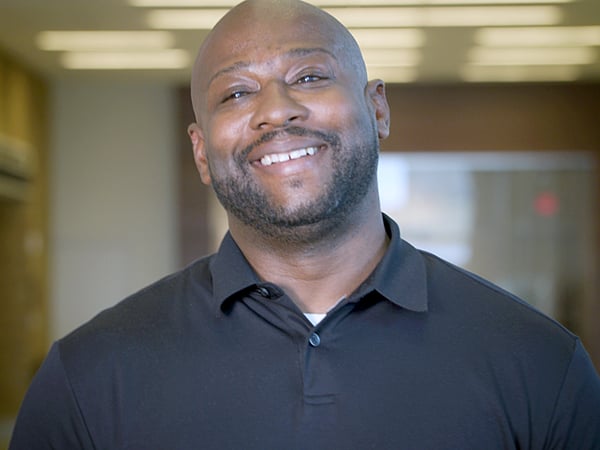 For Henry Watson, the love of technology came later than it did for many in the IT field. He missed the fun of growing up with video games. And he was a senior in high school before he fell in love with computers.
But today he finds a lot of satisfaction in his work as a team leader on the System Integration Team for C Spire. "System integration is the process that connects our customers' various IT systems and software applications so they can operate as a coordinated, unified system," he said. The team helps C Spire customers provide their own customers a user-friendly experience.
For Henry, it's innovation that he appreciates most about IT. "I love the satisfaction of building something from scratch," he said. "It's so challenging, and I love to see it evolve."
A graduate of Jackson State University with a master's degree from the University of Phoenix, Henry has been with C Spire for three years.
"They truly care about their employees and customers. There are lots of opportunities to build and grow your career," he said. The piece of advice that Henry would pass along to those new to IT is, When you fail to plan you plan to fail. "Being prepared with a plan is part of my customer-inspired approach to serving C Spire customers," says Henry. "I believe that is a key to success."
Henry's co-workers describe him as hardworking, and always willing to help them be successful. He's been known to spend hours of his own time helping others learn new technology. "I've learned a lot, too," he said. "A lot of smart people work at C Spire, and we help each other grow professionally."
Innovation and education are defining characteristics of C Spire's community footprint, says Henry. "One of the C Spire Tech Movement initiatives I'm most excited about is our work with young people, inspiring them to pursue technology careers. We host coding challenges for kids and bring our robot Pepper into classrooms. It's an exciting place to work!"
When he's not working, Henry enjoys sports, especially golf, and working on projects around his home. "I'm redoing the master bath right now," he said. "This winter I'll work on the other bathroom and the kitchen, and I want to do some touchups around the yard in the spring. I enjoy that kind of work. I worked with my dad, doing stuff around my parents' house when I was a kid. He taught me a lot."
But Henry also credits his mom with making him the man he is today. "She is the strongest woman I know," he said. "She is hardworking, loving, kind, smart, God-fearing … I could go on and on. She always taught me to be the best in everything I do in life. Don't take shortcuts. I bring everything she taught me to my work at C Spire and to how I treat my coworkers and customers."
Henry has four children, ages 18 through 27. As of right now, none of them share his interest in IT, he said. "But my boys are really into the video games, so there's hope for them yet! A lot of gamers end up in the IT field."
C SPIRE CAREERS
Are you dedicated to serving customers? Eager to learn, innovate, and grow? If you're ready to make your mark on the world of technology, C Spire is the place for you. We are looking for the brightest minds to help us. Learn about C Spire career opportunities here.